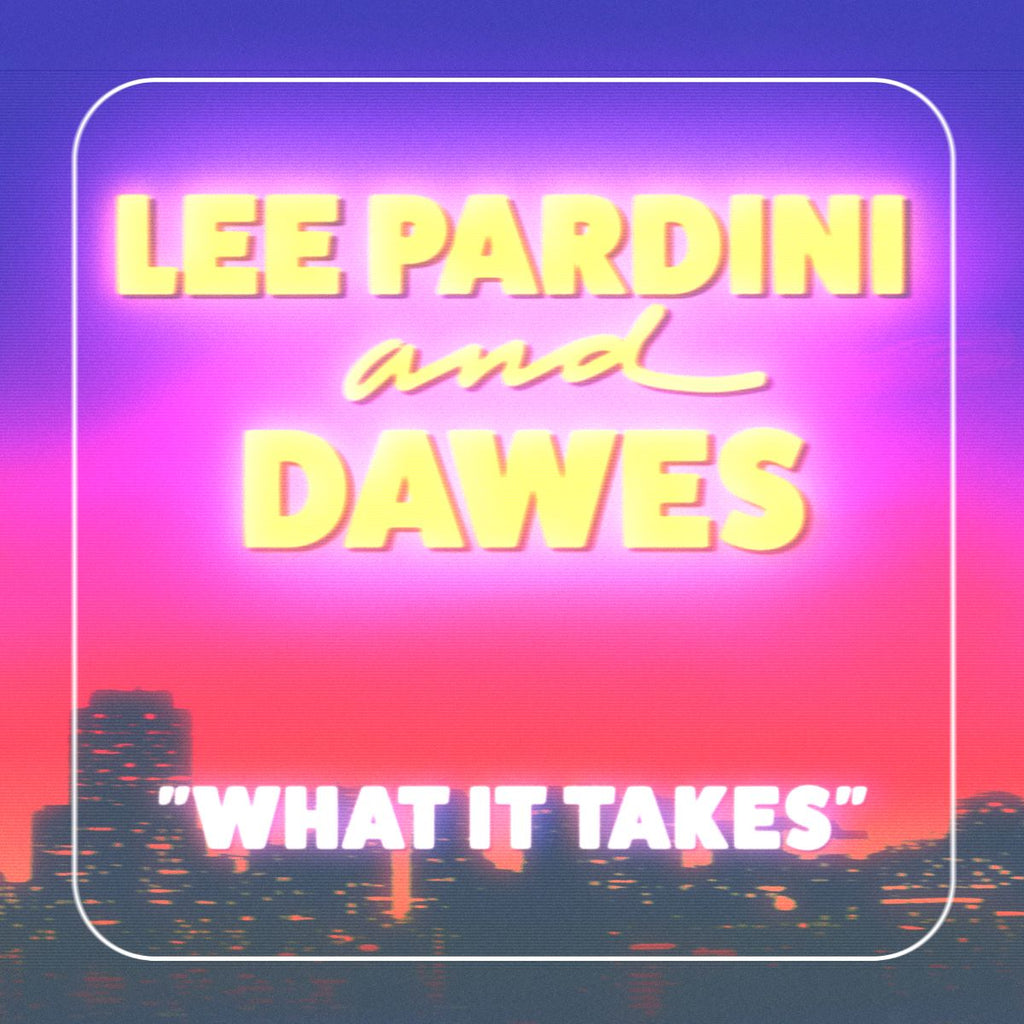 Lee Pardini & Dawes
What It Takes [MP3 Download]
---
Lee Pardini has proven to be one of the most prestigious players, a prolific session musician – known for his work with Dawes, Chris Stapleton, Roger Waters, Phil Lesh, Cass McCombs, Jonathan Wilson, Aimee Mann, Jason Isbell, and Theo Katzman, to name only a few – and multi-talented member of Dawes for more than half a decade. 2021 saw Pardini make a remarkable solo debut with Homebodies, released via GroundUP Music, the groundbreaking label founded by Snarky Puppy's Michael League. A master class in improvisation and band dynamics, the album sees Pardini performing original compositions backed by a star-studded combo that includes visionary guitarist Jeff Parker (Tortoise, Makaya McCraven), bassist Paul Bryan (Aimee Mann, Lucinda Williams, Elvis Costello), and Dawes drummer Griffin Goldsmith. Despite his seemingly nonstop schedule, Pardini swiftly followed Homebodies with 2022's Leon Keys EP, this time showcasing his lifelong passion for tight grooves, Japanese electronic music, and classic Eighties funk and soul.
Last year also saw the release of Dawes's critically acclaimed eighth studio album, Misadventures of Doomscroller, available everywhere now via Rounder Records. Produced by longtime collaborator Jonathan Wilson (Billy Strings, Father John Misty, Angel Olsen), Misadventures of Doomscroller represents an adventurous new turn for Dawes, evincing a more ambitious, exploratory approach towards recording than ever before. The album includes such singles as "Ghost In The Machine," "Everything Is Permanent," "Comes In Waves," and the epic opening track, "Someone Else's Café / Doomscroller Tries to Relax," all available now at all DSPs and streaming services. Official performance videos as well as a complete in-the-round performance of Misadventures of Doomscroller in its entirety – all directed by Caitlin Gerard at Hollywood, CA's historic EastWest Studios – are streaming now via YouTube.

Dawes is currently traveling the US on its "An Evening With Dawes US Tour 2023," continuing through a homecoming finale at Los Angeles, CA's The Theatre at Ace Hotel on May 5, 2023. Highlights include stops at such historic venues as Madison, WI's sold-out Majestic Theatre (April 14) and San Francisco, CA's The Fillmore (April 26), as well as a special two-night stand at the world-famous Belly Up Tavern in Solana Beach, CA (April 27-28, 2023). Additional dates include shows with Turnpike Troubadours, Mary Chapin Carpenter, and top-billed festival appearances. For complete details and remaining ticket availability, please visit dawestheband.com/tour.
Single Quote: 

 "To me, this song always felt like city life," says Lee Pardini. "Tough, relentless and a little menacing, yet extremely rewarding if you can persevere.  That's the tone that I think was captured in the original instrumental version on my EP, and that's exactly what Taylor picked up on before approaching the lyrics.  Maybe because we are in a band together, or perhaps because we are the same age and share similar musical ideals, but I knew we were in perfect synch as soon as Taylor showed me the lyrics and melody he composed.  He got it.  It's special to me that we've collaborated like this, but also very special to be able to release this with the band.  We've worked up our own unique live version of 'What It Takes' that absolutely has its own vibe.  The openness and willingness of my bandmates to venture into this territory further solidifies everything I love about being in Dawes."
"This is a lyric about the demands a city makes on you," says Dawes' Taylor Goldsmith. "Especially the city I've grown up in – Los Angeles, CA. Anyone who lives here is constantly fed this message that your success depends on whether or not you're willing to push your commitments to the absolute extremes. And that all might be true for all I know. But by the time we reach the chorus this song becomes a kind of resistance to that idea. Recognizing that, sure, maybe sacrifices need to be made. But where is the line for when that sacrifice is too big? I think as a new father this idea has been knocking around in my head for a while now. But it's not a song about parenthood. It's a song for anyone that wrestling with ideas of dreams, grace and boundaries.

"The words all kinda wrote themselves when I sat down with Lee's original music for this piece – Lou's Theme. I've always loved this track, as I've always loved every note of Lee's music. He creates such a rich emotional soundscape that the themes and mood of the lyrics felt kind of inevitable somehow. In the best way. I couldn't be more proud of the tune, but also excited about those of us in the Dawes universe continuing to find new ways to all make music and get it out into the world."
---
Share this Product