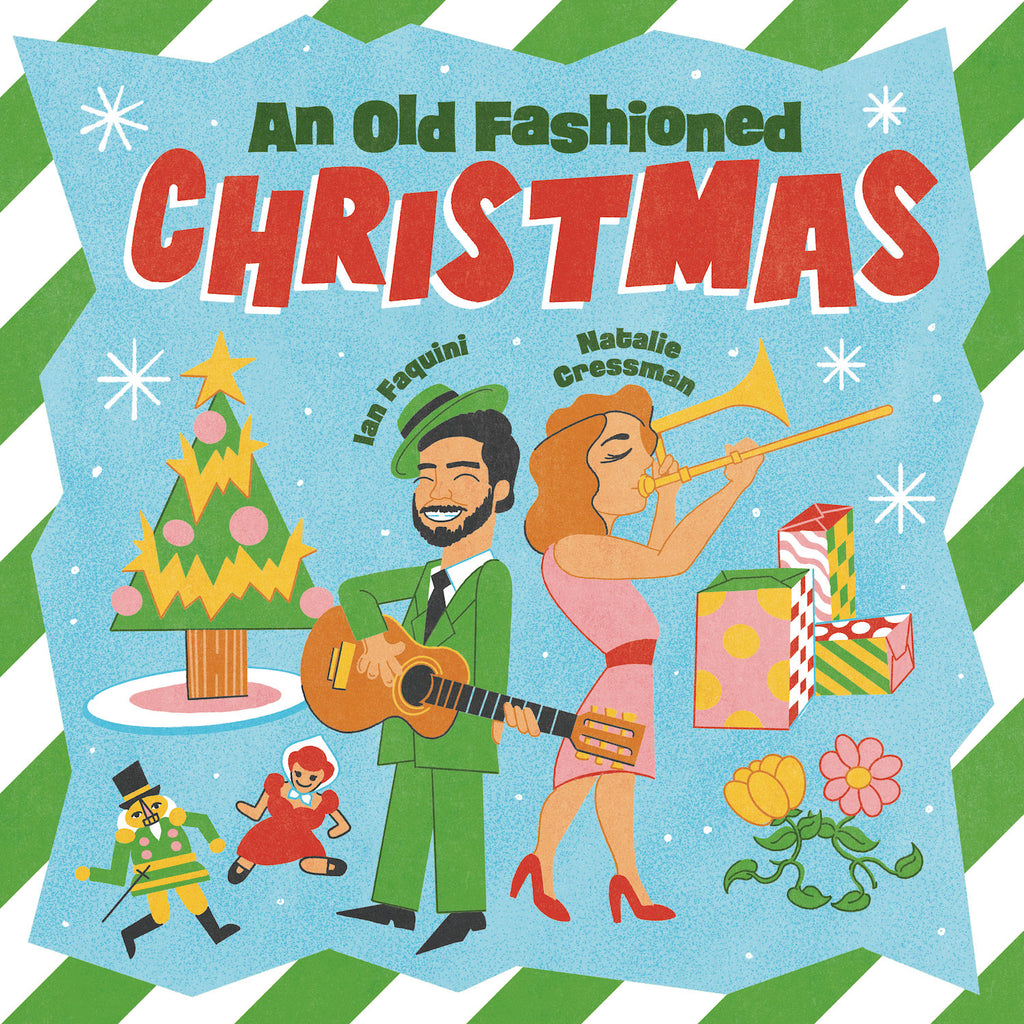 Natalie Cressman & Ian Faquini
An Old-Fashioned Christmas [MP3 Download] PRE-ORDER
---
This Product is a Pre-Order and will be released on 12/8/23.
Tracklist:
1. I'll Be Home For Christmas
2. Have Yourself a Merry Little Christmas
3. An Old-Fashioned Christmas
4. Waltz of the Flowers
With a rare appeal that extends beyond generations and borders, a classic holiday song has the ability to evoke a spectrum of emotions – from wistful memories of family gatherings to the unadulterated joy of Christmas morning. 
That superpower is what propels the Nancy Langhorne Foundation, which runs by the motto "Fighting Cancer with Christmas." Since 2017, the Norfolk, VA and Brooklyn, NY-based non-profit has raised significant funds for cancer research and free screenings for the uninsured through their annual "Christmas Eve Eve" concerts on December 23rd, while their label, 12/23 Records, releases limited-edition holiday records. 
This year, 12/23 is partnering with trombonist, singer, and songwriter Natalie Cressman and guitarist, composer, and vocalist Ian Faquini – a Bay Area couple whose acclaimed releases blend Brazilian musical traditions with modern jazz, folk, and pop. It's a natural move for the duo, who, as self-proclaimed "Jews who love Christmas," have been spreading joy with a series of virtual yuletide performances since 2020. 
Available digitally via GroundUp Music, An Old Fashioned Christmas was fittingly recorded last Christmas Eve. Steeped in nostalgia, the four-track EP finds the Brazilian-American duo performing songs that not only conjure personal memories but have also touched countless others over the years. 
Side A features a trio of mid-century favorites, beginning with the Walter Kent/Kim Gannon wartime classic, "I'll Be Home for Christmas." Written from the perspective of a soldier who is spending the holidays away from his family, the song's bittersweet lyrics mirror the duality that the season represents for so many. "It's a happy, hopeful time, but also a time of longing," explains Natalie. The duo deftly expresses those complex emotions through an intimate live take, in which Natalie's vibrant soprano vocals are accompanied only by the warm tones of Ian's acoustic guitar
Similar in tone is the wistful standard, "Have Yourself a Merry Little Christmas," written by Hugh Martin for the Judy Garland-led musical film, Meet Me In St. Louis. "It's one of those songs that you hear all the time without really thinking about it," Natalie notes. "But when you listen to the lyrics, you realize how sad it is." The couple's reflective, instrumental rendition captures those nuances, as Ian's languid guitar intertwines with a rich chorus of layered trombones.
The pair closes out Side A with an ethereal performance of "An Old Fashioned Christmas," a lesser-known Jimmy Van Heusen/Sammy Cahn tune, originally recorded in 1964 by Frank Sinatra. Natalie first heard the song when she was living in New York, across the country from her family. "The lyrics 'I'd trade that whole Manhattan skyline/The shimmering steel and chrome/For one old fashioned Christmas back home' really hit me at that particular time," she recalls. Today, it still resonates. "The song sums up the feelings that I have around Christmas time – which is of happiness and childhood memories, but also of being caught up in the shuffle and wishing for simpler times."
Side B pays homage to Ian's Brazilian heritage with a fresh, samba-infused take on Tchaikovsky's "Waltz of the Flowers" from The Nutcracker. The guitarist, who moved to California when he was eight years old, recalls the juxtaposition of tropical temperatures with images of a bundled-up Santa and his reindeer. "I think people forget that half the world celebrates Christmas in the summer," he laughs. That joyful, sunny flavor permeates the duo's interpretation of the ballet's famous waltz.
Initially, the musicians intended to perform a straightforward reading of the piece – assuming that their biggest challenge would be adapting the orchestral arrangement into a duet. "It was late at night and we had been inching our way through the original version," recalls Natalie. "We just started goofing around, performing it as a samba." Before long, the pair realized that they had something special. 
Ian notes that their reimagined version "Just worked better in a duet setting. When I was working out the arrangements, there were some parts that just felt impossible. We were going to miss a lot of different voices from the orchestra." But, Natalie adds, "Somehow, performing it as a samba gave it some space to be different. It took on a life of its own."
That unique perspective is what makes An Old Fashioned Christmas so special, says Richard Langhorne, Director of the Nancy Langhorne Foundation. "I love that they chose to shine a new light on 'Old Fashioned Christmas,' a great, deep cut that many people probably don't know about. I also love how they approached 'Waltz of the Flowers,' infusing the classic Tchaikovsky track with their Brazilian influences. Natalie and Ian are very talented, very nice, and I'm very fortunate that they wanted to participate in this project."
An Old Fashioned Christmas marks the third collaborative project by Natalie and Ian, who unknowingly played their first notes together as children at Brazil Camp – an annual week of masterclasses taught by the South American country's most revered musicians. By the time the two artists reunited as adults at the Northern California retreat, they had each forged their own successful careers. In addition to individual solo projects, Natalie performed in Broadway orchestras and toured with acts like the Trey Anastasio Band, Lettuce, and Umphrey's McGee, while Ian became a faculty member at Berkeley's California Jazz Conservatory and has long been counted among the Bay Area's foremost authorities on Brazilian music.
The couple, who celebrated their engagement earlier this year, have previously released two acclaimed albums together: 2019's Setting Rays of Summer and 2022's Auburn Whisper. They are currently working on their next project, which will honor the music of legendary Brazilian composer and guitarist, Guinga. 
All proceeds from An Old Fashioned Christmas will benefit The Colorectal Cancer Alliance and Eastern Virginia Medical School's Hope's Clinic, providing free colon cancer screenings to those in need.
---
Share this Product