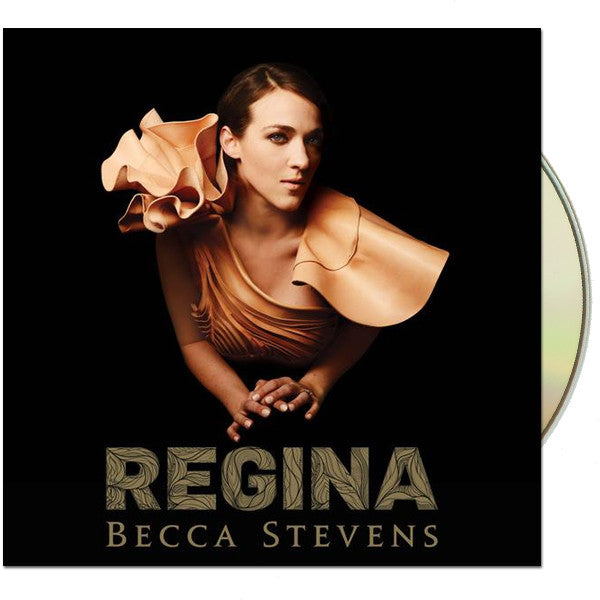 Becca Stevens
Regina [CD]
---
Always reaching, always stretching, Becca Stevens reinvents herself once again with Regina. In the years since the release of her critically acclaimed third album, Perfect Animal, Stevens has undertaken a journey that began with a study of Queen Elizabeth I as inspiration for a commissioned piece, which expanded into tributes to various queens from history, legend and from her personal life, songs inspired by the regal and divine, and finally Regina as a voice, like a trusted friend or an alter ego.
Regina, her first release on GroundUP Music, also marks the first time Stevens has record solely under her own name, instead of as the Becca Stevens Band. Stevens explains, "It's by no means a departure from my band mates, as they are still all featured and important parts of this album and will be the ones touring the music with me, but more so inspired by a desire to open the floodgates of artistic collaboration. There are so many artists whom I've come across lately who inspire me greatly and whom I have the desire to write for and collaborate with. This energy of collaboration into my writing and record making process has given me more direction, and clarity of artistic vision and self-expression. It's sort of like a painter finally painting her muse after a lifetime of painting landscapes and self-portraits."
Produced by Troy Miller, Regina features creative and performance collaborations with Snarky Puppy's Michael League, Jacob Collier, Laura Mvula, and the legendary David Crosby. The album was recorded in several phases – in London with Miller, a second London session with Collier (a co-producer on the album along with Stevens and League), a session with Miller in Brooklyn, NY, a session with League in Brooklyn and a final session with League and Stevens' band mates in Brooklyn as well. Additional collaborators include Alan Hampton, Jo Lawry, and the award-winning Attacca String Quartet, as well as Stevens' trusted band members Liam Robinson, Chris Tordini, and Jordan Perlson.
Tracklist:
1.
Venus (featuring Lara Mvula)
3.
Both Still Here (featuring Jacob Collier)
5.
Queen Mab
6.
We Know Love
9.
Harbour Hawk
10.
Well Loved (featuring Laura Mvula)
12.
The Muse (featuring David Crosby)
13.
As (featuring Jacob Collier)
---
Share this Product