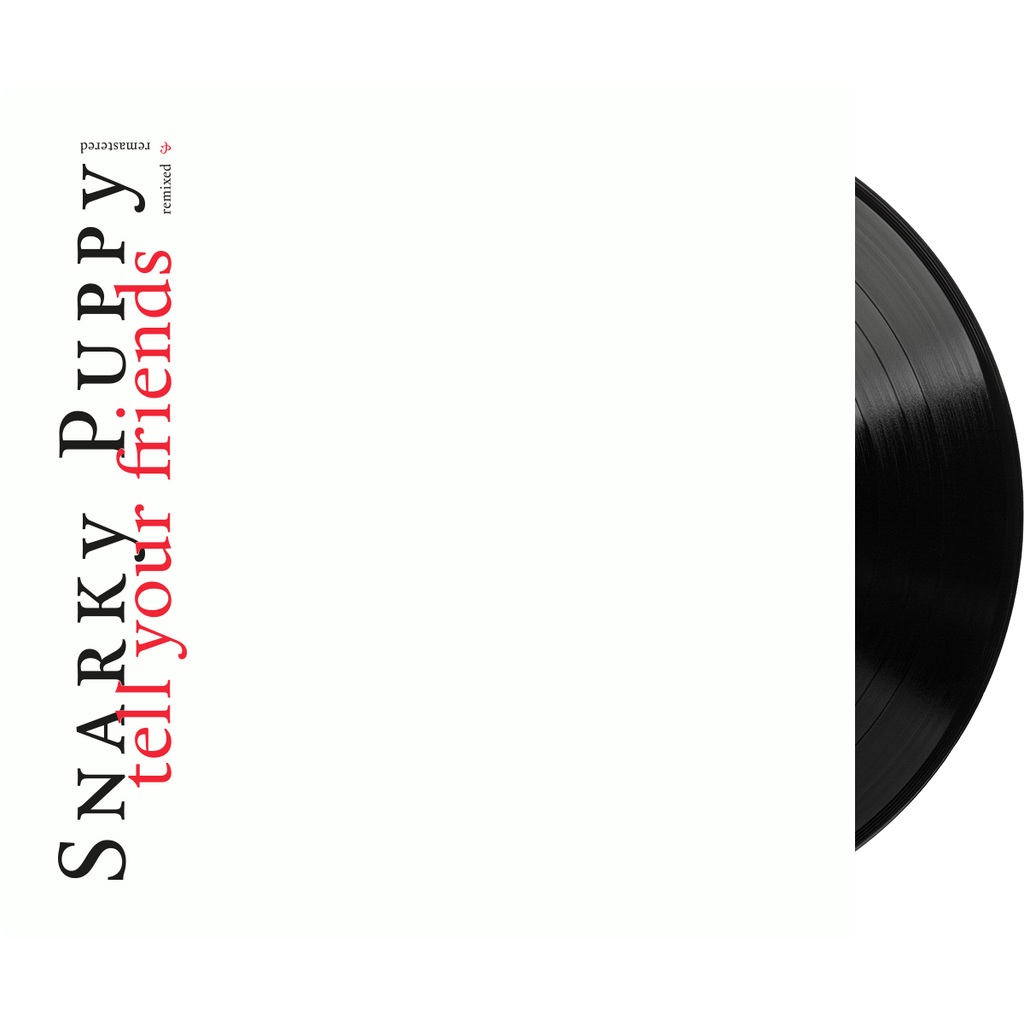 Snarky Puppy
Tell Your Friends (Remixed & Remastered) 2LP 180g Black Vinyl
---
2LP 180g Black Vinyl available with MP3 download. Includes two bonus tracks that were only available on the original DVD. First vinyl pressing to celebrate the 10-Year Anniversary of the Tell Your Friends release. 
The original version of Tell Your Friends was released in 2010, almost ten years from the date of this, its re-release. It was Snarky Puppy's first foray into recording and filming in-studio live albums, leading to the band's first global impression and YouTube sensations. And while this recording was especially tumultuous, it was largely held together by our new engineer, Eric Hartman. He had engineered a good amount of and helped mix our previous album, Bring Us the Bright, but this was his first time in the driver's seat with us. Between borrowed equipment, a hilariously low budget (four figures), and a band that had never done anything like this before, the session was a complete mess. Over the three days we were there, no one saw him sleep until after the last performance. He was fully clothed, under the recording desk.
From his home base in Dallas, Eric went on to engineer and mix the albums GroundUP, Family Dinner - Volume One, We Like It Here, Sylva, and a good deal of Family Dinner - Volume Two. While on tour in Montreal in 2015, nearing the tail end of the mixing process for Family Dinner, we received news that Eric had suddenly and tragically passed away. We were destroyed. He worked with many individual members of the Snarky Puppy and GroundUP label families on their own respective projects, and brought a level of (badly-needed) calm and conscientiousness to every project he touched. 
Michael League was living in New York at the time, working frequently with the immensely talented engineer Nic Hard. Nic was the obvious choice for the band, with an aesthetic completely opposite to that of Eric. If we were going to be forced to change sonic directions, we wanted to do it in a big way. Nic engineered and mixed Culcha Vulcha, Immigrance, Live at Royal Albert Hall, and hundreds of live concerts for Snarky Puppy. While recording these new projects alongside Nic, we decided to start releasing on vinyl, in reverse chronological order, all of our previous titles. It was relatively low-maintenance as the final mixes for each had been sitting inside of dust-covered hard drives in my studio. That was, until, we got to Tell Your Friends. It wasn't there.
Everything we had recorded was on the drive, but the mixes were gone. Not a trace of the work Eric and Michael had done in Dallas. Just the raw audio, exactly as it was the minute after we played the last note of the night at Dockside Studio in Louisiana. It goes without saying that this was a serious problem, but it also presented a unique opportunity. What if Nic remixed it? We already had Eric's mix out in the world, but we were physically incapable of using it to produce the vinyl master. So, why not use it as a chance to get a second perspective on the exact same performance? Remixes and remasters are not unusual in this day and age, but very rarely do they happen out of absolute necessity.
What you have in front of you is the first live album of a completely unknown band, recorded in Louisiana by Eric Hartman and mixed a decade later in New York by Nic Hard (and mastered by Dave McNair)- an unexpected collaboration with a thread woven through ten years of music and friendship. 
Enjoy the new perspective.
Whitecap (2020 Remaster)
Flood (2020 Remaster)

Side B:
The Good Man Deliver & the Best is Blessed (2020 Remaster)
Skate U (2020 Remaster)

Side C:
Slow Demon (2020 Remaster)
Ready Wednesday (2020 Remaster)

Side D:
Anomynous (2020 Remaster)
The Little People (2020 Remaster)
Band Members:
Michael League: electric bass, keybass
Bill Laurance: piano, keyboards
Shaun Martin: Moog, Hammond B3 organ
Justin Stanton: Fender Rhodes, keyboards
Mark Lettieri: electric guitar
Bob Lanzetti: electric guitar
Chris McQueen: electric guitar
Nate Werth: percussion
Robert 'Sput' Searight: drums
Jay Jennings: trumpet, flugelhorn
Mike 'Maz' Maher: trumpet
Ian Rapien: tenor saxophone
Chris Bullock: tenor saxophone
Zach Brock: violin
Eylem Basaldi - viola
Shawna Hamilton - cello
TaRon Lockett - drums (on "Whitecap" and "The Good Man Deliver and The Best is Blessed")
Roni Gan - violin (on "Slow Demon")
---
Share this Product