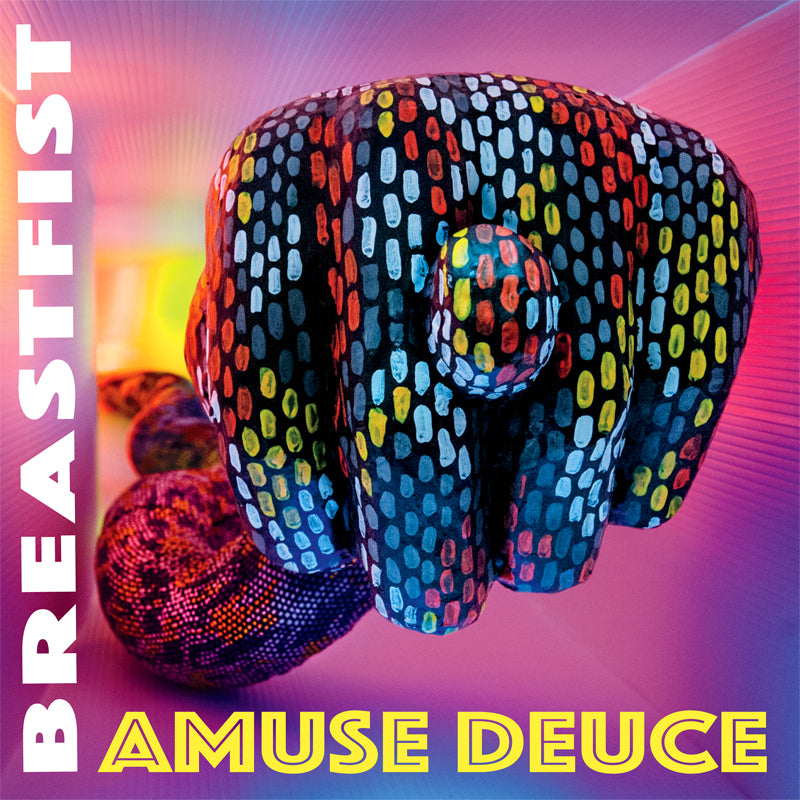 Breastfist
Amuse Deuce [FLAC Download]
---
"Breastfist is my favorite live band in the Universe" -Michael League, daddy of Snarky Puppy
Breastfist is Bill Campbell's weird baby.
The baby was originally conceived during a conversation in 2007 where Alan Hampton (bass) and Bill (drum) were laughing about how often bandleaders would say stuff like "don't play a groove" or "don't make it too funky" or "no backbeat". The conversation moved to the idea of starting their own band, just them, just sexy grooves and funky bass lines. they did just that, and they saw that it was good and needed a name. 
One day soon after, Alan, Bill and his girl Lindsey were walking around in Prospect Park and Lindsey was like "where should we eat breastfist?" That's it-the perfect name! Bill pumped his fist with the thumb sticking through all nipple-like. It even had a sick logo.
Years passed, more band members, killer shows, cathartic jams, ripping guitar solos, magical stanky synth odysseys, creamy vocal spreads, sweaty dance parties, flightless bird freak outs, trash bag filled with unitards, fans being all "you guys are my favorite band!", exposed midriffs, adult incontinence products, a mushroom penis, a few Facebook likes, more songs, more years…
In 2012 the debut record, "Tickly Shimmers" was self released and caught the ear of many with hot hits such as "Chastity Belt", "Booty", and "a Lickin".  Word spread of the album and the incredible live experience.
…More years, Guadalajara, NYE at Irving Plaza with Snarky Puppy, that jam scene dude Keller Williams covering "Talk to the Fist", more songs, fans singing along cuz they know the words- "he made the penis fit the 'gina, and several other holes kinda, ladies say his name out loud, makin fellas hella proud…", more years…
Now it's 2017. The baby is 10 years old, and still behaving strangely. Daddy did have some pretty unusual parenting methods, like keeping baby up way too late and dressing it in homemade clothes made out of shit from the 99 cent store.  But daddy always encouraged baby to 'spress it's true self, and it did, and so grew into a beautiful and unique man-baby with lots of cool friends. 
The Breastfist family has grown quite large over the years. Stank LoCrasto, Ryan Scott, Al Street, Christina Courtin, Grey McMurray, Robin MacMillan, Aaron Thurston, Jordan Scannella, Jonathan Maron, Josh Mease, Tom Ayres, Dave Cook, Roy Dunlap, Chris Parker, and many more badasses have been in rotation. 
The 2nd record, "Amuse Deuce", drops Oct 6th on groundUp records. Then baby is off to travel the world and learn stuff. 
Tracklisting:
1. Dried Fruit
2. He Call Her The Boss
3. C'mon, Money
4. Shit They Wish
5. It's Your Daddy
6. (From ma) Memreh
7. My Boy
8. Sucha Hurry
9. They Stoopid
10. Lady But
---
Share this Product